Kako deluje toplotna črpalka in katere so njene prednosti?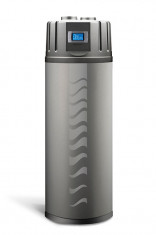 Toplotne črpalke postajajo vse pogostejša izbira pri ogrevanju domov in poslovnih prostorov in čeprav o njih ogromno slišimo ali preberemo, še vedno ne vemo, kako delujejo. Če se šele odločamo za nakup, nam bodo vsekakor prišle prav informacije o njihovem delovanju. V osnovi bi lahko rekli, da sistemi delujejo na podlagi termodinamike, saj premikajo toploto iz enega vira v drugega. Potrebujejo delovni medij, v tem primeru hladilno sredstvo, ki v hladilnem krogotoku neprestano spreminja svoje agregatno stanje. Naprave tako odvzemajo  toploto s hladnega telesa in jo s pomočjo dela dovajajo toplemu telesu. Območje, iz katerega se toplota vzame, je vedno bolj vroče od površine, kam se toplotna dostavi. Proces izhlapevanja in utekočinjanja hladilnega sredstva sta dva najpomembnejša procesa, v katerih delovni medij sprejema oziroma sprošča toploto. Za normalno delovanje toplotne črpalke je torej potreben dodaten vir energije, največkrat je to električna energija ali plin, ki povečuje toploto in dviguje temperaturo na želeno raven. Delovni medij nato v obliki plina potuje skozi kompresor, v katerem se mu zviša tlak in dvigne temperatura, saj je v proces vključeno mehansko delo. Kompresor je tisti, ki za svoje delovanje potrebuje električno energijo, tekočina pa po izstopu iz kompresorja preide v kondenzator, kjer odda toploto ogrevalnemu mediju. Ker se njegova gostota zmanjša, se prične hladivo ohlajati. Ko le-to preide iz ekspanzijskega elementa ponovno v uparjalnik, je delovni krog sklenjen in to je odgovor na vprašanje, kako deluje toplotna črpalka. Poznamo tri najbolj pogoste vire toplote za toplotne črpalke – podtalno vodo, zemljo in zrak, katerih princip delovanja je zelo podoben. V primeru uporabe podtalne vode ali zemlje kot vira ogrevanja moramo investirati v sistem za ekstrakcijo toplote. To so lahko vrtine za črpanje in vračanje vode v podtalnico ali zemeljski kolektor. Toplotne črpalke, ki za svoje delovanje uporabljajo zrak, te investicije ne zahtevajo, zato so tudi med najugodnejšimi sistemi na trgu, hkrati pa so znane tudi po enostavni montaži, ki ne zahteva večjih posegov v prostor.
Za svoje delovanje uporabljajo brezplačne vire energije iz okolice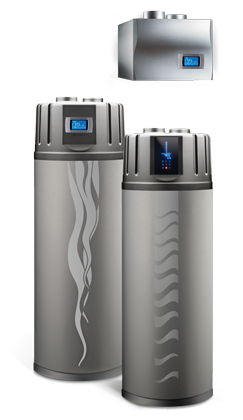 Toplotna črpalka približno ¾ energije pridobi izključno iz obnovljivih oziroma brezplačnih virov iz okolice, torej iz zemlje, podtalne vode ali zunanjega zraka, odvisno od sistema, ki smo ga izbrali. Kateri sistem bomo izbrali, je odvisno od številnih dejavnikov. Za vgradnjo toplotnih črpalk se danes ne odločamo več le v primeru novogradenj, temveč tudi pri sanacijah starejših objektov s slabšo izolacijo. V tem primeru je po mnenju številnih strokovnjakov smiselno predhodno kar se da zmanjšati toplotne izgube, da bo delovanje toplotne črpalke optimalno. Ker govorimo o sistemih, s katerimi lahko hkrati segrevamo bivalne prostore in ohlajamo določen prostor, kot je klet, se investicija v vsakem primeru splača, tudi, če nameravamo toplotno črpalko vgraditi v starejši objekt. V tem primeru nam pride prav sistem z eno zunanjo in eno notranjo enoto, ki pozimi v bivalnih prostorih ustvarja toploto, poleti pa poskrbi za prijeten občutek hladu. Najpogosteje se odločamo za sisteme zrak voda, ki so zasnovani na podoben način kot hladilniki, le da delujejo »obrnjeno«. Če na celotno stvar gledamo z ekološkega vidika, hitro ugotovimo, da predstavljajo toplotne črpalke zaradi svojega načina delovanja najprijaznejši in energetsko najvarčnejši način ogrevanja prostorov.
Zakaj izbrati toplotne črpalke Orca?
Toplotne črpalke Orca tako v svoji kakovosti, kot tudi v svojem delovanju visoko presegajo najstrožje evropske standarde, kar dokazujejo tudi certifikati najpomembnejših neodvisnih strokovnih institucij v Evropski uniji. Poleg novogradenj so odlične tudi za radiatorsko ogrevanje. Če torej iščete sistem, za katerega se ne boste spraševali, kako deluje in ali je njegovo delovanje res optimalno, potem so sistemi Orca prava izbira za vas, saj dosegajo tako visoka grelna števila (COP), da so primerljive z mnogo dražjimi sistemi, ki kot vir energije uporabljajo podtalnico ali zemljo. Proizvedene so v Sloveniji z najkakovostnejšimi komponentami evropskih in japonskih proizvajalcev, spremlja jih do 5 let garancije, poleg tega pa pomenijo najnižje stroške ogrevanja v primerjavi z drugimi viri. Podjetje Orca Energija je eden od vodilnih slovenskih proizvajalcev toplotnih črpalk. Je tudi distributer za druge varčne ogrevalne in hladilne sisteme, kot so peletne peči, klimatske naprave in prezračevalni sistemi. Strokovnjaki iz podjetja se zavedajo, da je nakup ogrevalnih ali hladilnih sistemov dolgoročna naložba, zato imajo desetletja brezhibnega delovanja v mislih od prvega načrta pa vse do končnega izdelka. Z veseljem vam bodo podali dodatne informacije o tem, kako deluje izbrana toplotna črpalka, kakšen je princip delovanja in ali bi bil sistem, ki ga želite izbrati, primerna izbira za vaš dom. Zaupajte največjim strokovnjakom na tem področju.
Contact us and we will be happy to help you choose.

All in one place
Professional customised design according to the layout of your house, quick installation and reliable service.

Simple Installation and Control
Heat pumps for sanitary water are simple to install into your area and they're even simpler to control.

Over EU Standards
Orca products exceed the most rigorous EU quality standards.