Air-water heat pumps have one important deficiency. Sounds of outside units' ventilators are causing more and more neighborly disputes in densely populated areas. This is why Orca Trio is a good solution.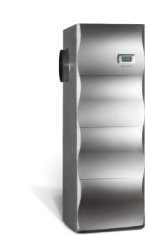 The machine is installed inside the building, it takes air through a lattice in the wall and is inaudible for the neighbors.
It is designed as a monoblock which means that the lid conceals everything: exchanger with ventilator, sanitary water heater and a system to heat the building with control automatics, appropriate for floor, wall or ceiling heating.
We place it into an appropriate room, connect with openings for air entry and exit, then with the heating system and sanitary water shedding- that concludes the installation.
It works at temperatures as low as -20°C, has a 200 l water tank capacity, adapts independently to weather conditions; we can furthermore cool rooms off.
COP number 4,0 (A//W35) insures economical functioning, heating power is 8,4 kW, measures (HxWxD) 1820x650x930 mm and it heats isolated buildings (needs 40 W/m2) up to 120m2 or in case of a passive building up to 200 m2.
Contact us and we will be happy to help you choose.

Simple Installation and Control
Heat pumps for sanitary water are simple to install into your area and they're even simpler to control.

Over EU Standards
Orca products exceed the most rigorous EU quality standards.

A reliable service network
Ensures a quick and professional service.